Cover Options
IR35 Protect
Legal Expenses

Essential

Standard

Premium
Prices shown exclude Insurance
Premium Tax (IPT) at 12%
£74.50
£149.50
£174.50
£199.50
Monthly payment options available
Total inc IPT £83.44
or 10 instalments of £9.18
Total inc IPT £167.44
or 10 instalments of £18.42
Total inc IPT £195.44
or 10 instalments of £21.50
Total inc IPT £223.44
or 10 instalments of £24.58

X

IR35 Status Review(s)

Our Standard IR35 Protect package includes a review to determine your IR35 status. All status reviews are provided by our approved reviewer and IR35 specialists, Larsen Howie. If you decide to purchase our Premium policy you will have access to unlimited IR35 Status Reviews.

x 1 IR35 Status Review

Unlimited
IR35 Status Reviews*
£100,000 of cover for…

X

Cover for taxes, interest and penalties from HMRC

When you purchase any of our IR35 Protect products you will receive up to £100,000 of cover for any taxes, interest and penalties for which you are held liable by HMRC, following an IR35 status enquiry. We can also guarantee that your case will automatically be defended if your outside IR35 status review is successfully completed by one of our approved IR35 panel members.

This part of the package also extends to indemnify the fee payer for such liability.

Taxes and interest from HMRC

?

Penalties from HMRC
£100,000 of legal expenses cover for…

X

IR35 status enquiry defence costs

If you are subject to an IR35 status enquiry by HMRC then this policy can help with your defence bill. All of our Legal expenses and IR35 Protect policies will cover any professional, legal and accountancy fees incurred up to the value of £100,000.

IR35 status enquiry defence costs

?

X

Legal Expenses for tax, VAT, PAYE and NIC investigations

As well as covering expenses for IR35 enquiries, the policy will cover professional fees incurred to defend an HMRC enquiry relating to VAT, PAYE or NIC.

Legal Expenses for tax, VAT, PAYE

and NIC investigations

?

X

Contract disputes

This cover will provide assistance when you are negotiating legal rights for the purchase or provision of goods or services.

X

Jury attendance cover

If you are called up for jury service, this policy will cover your loss of salary and wages while off work to attend a court for jury service.

X

Debt Recovery Service

If you are not paid for the sale or provision of goods or services, you will receive assistance in recovering money owed.

X

Identity Theft

This will provide cover for necessary legal expenses and ancillary costs incurred following the event of a personal identity theft.

X

Personal Injury

This will cover the costs and expenses for both you and your family members' legal rights, following an accident resulting in bodily injury.
The Kingsbridge Status Tool
Our hybrid status review tool puts the best expertise and support into one place. A single review costs just £50 or if you purchase our IR35 Protect PREMIUM package of you get unlimited access to the tool.
Get an instant IR35 report that will outline the strengths and weaknesses of your engagement.
Download your IR35 Result and report containing specific feedback on your answers.
Any indeterminate results will be manually reviewed by our IR35 consultancy team who contact you to discuss your review.
The Kingsbridge Status Tool has been developed by Andy Vessey, Head of Tax at Kingsbridge. Andy has defended more IR35 investigations than anyone else in the industry so you can rest assured that the logic driving it is based on key factors from real life IR35 enquiry cases.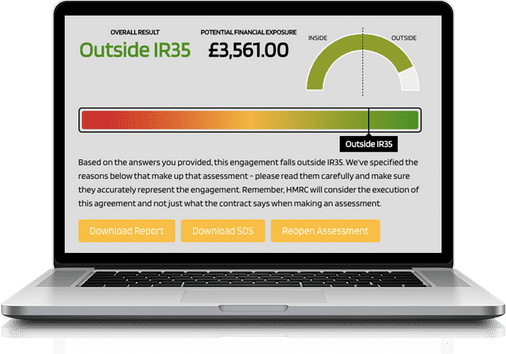 All Claims Handled by DWF
All claims are handled by DWF, a top UK law firm and winner of "Insurance Law Firm of the Year" at the Claims Awards 2018 and 2019.

Underwritten by Zurich
Our Legal Expenses and IR35 Protect products are underwritten by leading multi-line insurer Zurich Insurance plc.

IR35 Review Included
Our Standard IR35 Protect cover includes an IR35 status review. Upgrade to our Premium cover for unlimited status reviews with IR35 specialists Larsen Howie.
Call 01242 808 740 To Buy Now
---
Full terms, conditions and exclusions can be found here.